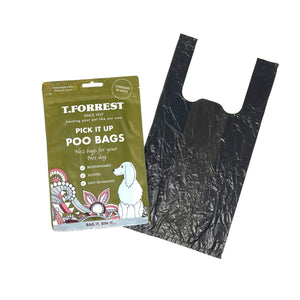 PRODUCT INFORMATION

Not the most glamorous job but we all have to do it. So that's why we have made cleaning up after your pooch simple, clean, and eco-friendly. A number two bag for your number one dog! 
BIODEGRADABLE - Tread lighter on the earth and reduce your carbon pawprint. Our Pick It Up Poo Bags are completely biodegradable and eco - friendly. 
STRONG - 
Your little package is safe and secure. No need to worry about leakage, our bags are super strong. 
SCENTED - We have tried to make this not so pleasurable experience a little bit fresher. Our biodegradable poo bags are as fresh as a daisy with an added floral scent. No need to hold your nose. 
EASY TIE - There's nothing worse than juggling a dog, lead and poo bags. The struggle is real. So our Pick It Up Poo Bags come with easy loop handles that a quick to tie when you've got your hands full. 
Just because these poo bags are biodegradable, please don't think it's ok to put these bags in bushes or hang them on a tree. They don't make the most attractive tree decoration.
Please find a dog waste bin to dispose of the full bag. Bag it, bin it! That's our motto!