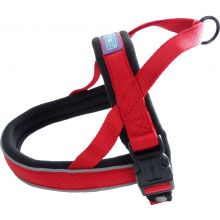 This great looking harness features reflective edging for safety and is fully adjustable for maximum comfort.

Made from high quality nylon fabric, padded with fleece for support and comfort of the chest area.

Extremely easy to fit, it is also soft and flexible with a secure fit for your dog.

Wearing a harness will evenly distribute your dogs pull making it easier to control your dog.