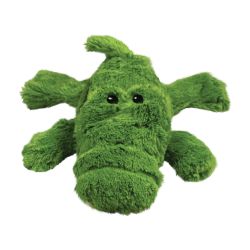 Kong Cozies Ali Alligator Extra Large
Want to show appreciation and love your pup deserves? Add some fun and happiness to its playtime and bring home this tough yet fluffy KONG Alligator Dog Toy. This dog toy is made from 100% safe and soft fabric using lifelike features of an alligator. From its fur to the stuffing inside, this toy is super comforting for your dog. It has a warming effect on your pups skin and coat and prevents abrasions on its mouth while tugging or chewing. Moreover, this cute dog toy is an ideal snuggle-buddy to comfort your dog during its sleep time. This KONG Cozie Ali the Alligator dog toy is designed with a long, furry body to make it easier for your dog to hold and play. It will love to grasp and tug around this green alligator plush dog toy with its friends, interactive training sessions or during solo play.
This squeaky dog toy also features a squeaker to fascinate your pup for long hours with the sense of sound as well. Moreover, the squeaker helps you keep tabs on your dogs whereabouts in the house. You can easily wash this comforting dog toy will your dogs machine-washable toys. Further, it is lightweight and easily portable so you can take your dog and this toy to the park for a revitalising fetch game. The main thing to care with this squeaky alligator dog toy is that it has eyes that can be pulled out and ingested. So, you must replace it at once, if damaged.
Product Dimensions: 30 cm (D) x 12 cm (W) x 10 cm (H)
Product Benefits
Lifelike plush alligator dog toy to make a good snuggle buddy for your pet
Made from plush fabric with a furry exterior and squeaker on the inside
Best to comfort your dog during playtime as well as sleep time