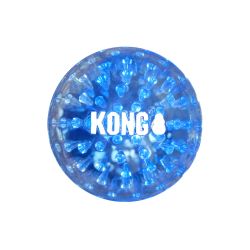 COLOURS MAY VARY
Internal spikes for chewing delight Squeaker sounds ignite chasing instincts
Crackle sounds extend engagement

KONG Geodz's unique design entices engagement that activates dogs into interactive fetching fun. The squeak and crackle sounds ignite dogs' natural chasing instincts while the durable material is sure to make play time last longer. A stellar bounce sends pups into bounds of exercise with each enriching engagement. Add splashes to the fun—the KONG Geodz also floats for aqua fetching!