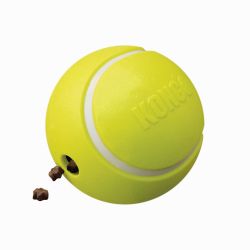 The Kong Rewards Tennis are cleverly designed to randomly dispense treats or kibble as a dog moves it around and plays with it.
Providing a healthy mental stimulation, the unique tennis ball shape keeps dogs active while they play and chase it around.
The special durable outer material is designed for long-lasting sessions of quiet fun, inside special fins stop the treats falling out too easily, providing a fun challenge for your hound, popular for use with kibble meals to manage weight.
Simply fill the toy via the easy fill funnel with the desired amount of treats/kibble and let your dog enjoy playing to get the rewards.
Why its so good!
• Durable treat dispenser for mental stimulation and boredom busting fun
• Random bounce and roll action keeps dogs active and engaged
• Designed for quieter fun packed play sessions
Available in Two sizes:
Small: Approx 85mm Diameter (For dogs up to 18Kg)