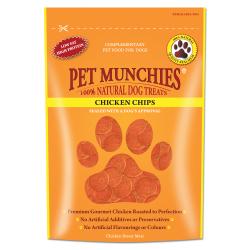 Description
Pet Munchies Chicken Chips Treats for Dogs is made from the finest quality chicken meat.
These delicious chicken chips are made from 100% natural cuts of chicken and are a great training aid for your dog.
Pet Munchies Chicken Chips Treats are high in protein and low in fat, making these crunchy treats perfect for health or weight conscious owners. Regular chewing can also help remove plaque.
Pet Munchies Treats contain no artificial preservatives, additives, flavourings and colourings.
These delicious treats come in a resealable bag to lock in the mouth watering flavour.
Bag size: