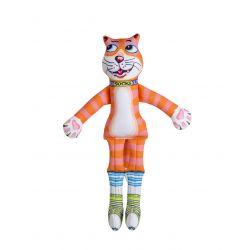 Robust Squeaker
Made with non-toxic materials
Printed polyester stuffed with fiberfill
Super floppy
This leggy dude with high-tops 'n tubes will score big with your pup! Floppy by design (very exciting if you're a dog), he's looking for a quick pick-up game. A slam dunk choice for durability. And a squeaker is just the thing to keep 'em playing. 
GIFT FOR SPORTS ENTHUSIASTS: These cats are a slam dunk for any sports fan with balls!

TOUGH AND SNEAKY: Constructed with non-toxic materials and fiberfill.

NON-STOP FUN: Grab 'em, Fling 'em, Shake 'em. Socks features a grabbable tail and floppy arms and legs for flipping, throwing and retrieving.

NON-TOXIC: Safety is super important when it comes to choosing a toy for your dog. Crafted from premium quality, durable, non-toxic materials and stuffed with fiberfill.